Handcrafted Wooden Soap Holder - Soap Dish - Ipe -
Brazilian Walnut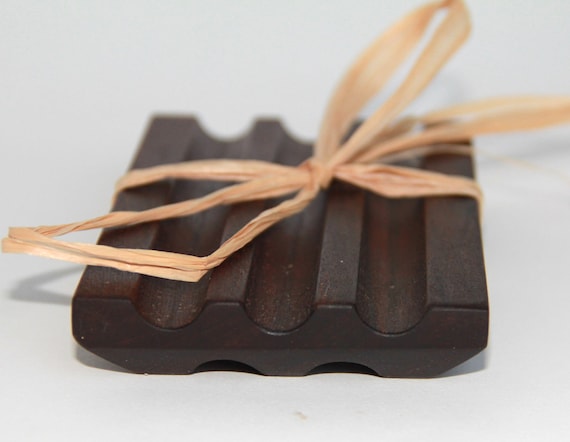 These wooden soap holders are handmade from Ipe* also known as Brazilian Walnut or Ironwood. The Ipe is a very hard wood and more difficult to work with, but well worth the effort because of its durability. All our soap dishes measure 3" by 4" 3/4.
Our soap dishes have a sleek and beautiful appearance that will complement any bathroom. Combine these with a luxurious handmade soap to create a unique gift for a loved one.
These functional soap holders are designed to air dry and make your soap last longer. They are also very easy to clean due to the rounded grooves design.
These soap dishes are not stained, but treated with vegetable oil. Due to their natural oil content and natural color, they may cause your soap to discolor a little where it comes in contact with the holder.
*Ipe is a hardwood that typically grows in South America. It is highly resistant to moisture, bacterial attack and will not grow mold or mildew, so water damage will never be a problem for your soap dish. Ipe is known to be extremely durable and if left untreated, it will last over 50 years.
All soap dishes sold in my shop were handmade by my wonderful husband who is a very talented woodworker and offered to make these to compliment my handmade soaps. You're welcome to visit his Etsy shop at IDWOODWORK
This listing is for 1 soap dish but I have additional quantities available.
$15.00USD